Sometimes you just have to go all out for Halloween. I custom designed, fabricated and produced our own Ghostbusters Proton Pack this year to include dual motion LED lights, dual sound circuits, and a triple LED lit bubble gun built onto a vacuum hose handle and trigger. From concept, to project, to trick or treating, this whole experience was truly a blast!
– SCARPACE
After deciding that I wanted to make a Ghostbusters Proton Pack for my son's Halloween costume, I started with a bunch of design ideas in my head and slept on the idea for a few days to dream up something possible. Then to get started on this DIY (Do It Yourself) project, I began collecting various materials and went on the hunt for a few specific things that I knew I would need.
I found an old vacuum hose that had a cool looking handle with a built in switch. I then collected a few strange looking plastic food containers from deli sliced cheese, Taco Bell cheesy potatoes and even a plastic insert that originally held the icing within a cinnamon roll package.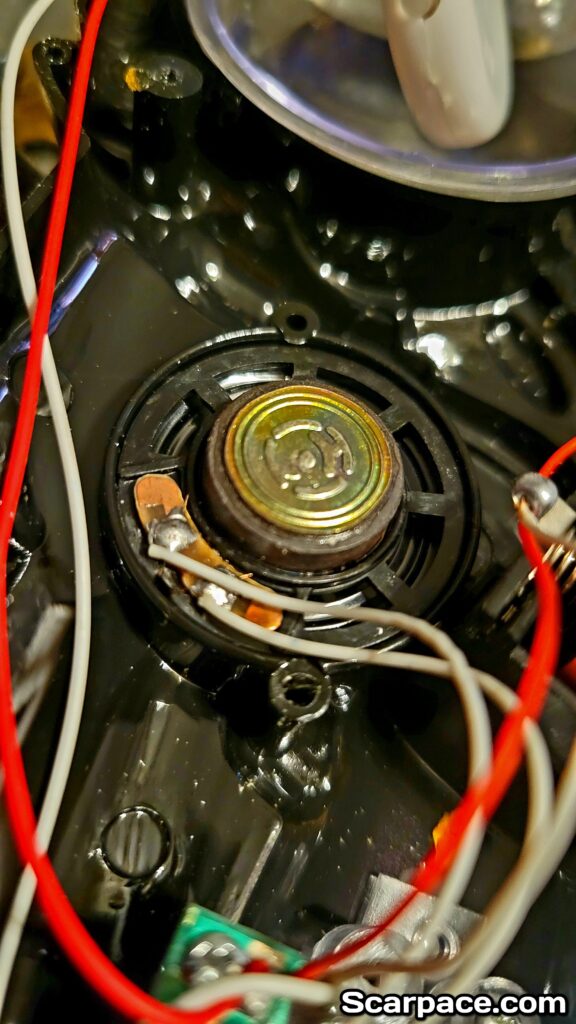 Then I got really busy. After cutting out a piece of 3/4″plywood with a matching piece of aluminum diamond plate backing, I cut off and bolted on two standard backpack straps to get started. Then I got to work dissembling and frankensteining everything together. I decided the make the the main power line (the old vacuum hose) with the gun handle removable with hidden wires and a 3-prong hidden plug that runs through the inside of the hose. In order to get the hose to attach and detach when necessary, I had to custom fabricate and weld together a sturdy mount out of steel and brass. I cut up both LED guns and one of the bubble guns, then creatively added them to the backpack and gun. It took quite of bit of custom wiring to get everything hooked up and working the way that I had imagined. I decided to place six of the AA batteries inside of the plastic sliced cheese container using three battery holders modified to power part of the primary circuits. I kept a third triple AA battery housing that was included with one of the cut up LED guns to use on the backpack portion. In the end, nine AA batteries wired in sets of three are all combined together to power both LED guns with sounds in the backpack and gun part as well as the bubble gun. Another two AA batteries were used in the original battery holder and controller for the EL wire on a seperate circuit. All together that's 11 AA batteries powering two separate circuits. The primary circuit is powered by a total of 4.5-Volts with 25,200mAh (Milliampere-hours) or 25.2Ah (Amp Hours) which should give at least 12-hours of enough usable power before needing a recharge. The second circuit only powers an orange EL wire that I decided to use throughout the backpack, uses only two AA batteries and can turned on full, flashing slow and flashing fast. After getting everything mounted and wired up to be triggered by one trigger switch in the handle of the gun, I added several small additional accent details using various screws, washers, metal mounting brackets, rubber grommets, etc.
With my Ghostbusters Proton Pack completed, it was time to carefully hand it over to my son to go have some fun and make some awesome new memories for Halloween. Boy, was he excited to see how the final design all came together and ended up working out. When he pulls the trigger on the handle of the gun, it activates the all of the separate motion and blinking LED lights and sound circuits built into the gun and backpack as well the powerful bubble gun lit up with three different LED lights.
The backpack has a ton of built-in action that I personally think really took our Proton Pack over the top! The batteries are creatively on display and lit up with a blue LED light mounted inside the plastic sliced cheese holder. The bottom center of the backpack uses one of the motion LED gun lights cut up and modified to shine through the clear cover of the plastic Taco Bell potato holder. And on the top right of the backpack, you can see the cinnamon roll cup lighting up with a flashing Red/Blue LED light on the inside. Also, you can see the orange EL wire that sort of looks like neon running all throughout the entire backpack.
So, did I go overboard with this truly one-of-a-kind Ghostbusters Proton Pack costume accessory or is this thing just plum crazy? I don't think so! I believe that taking the time to dream up things, build things, and share things with our kids is vitally important to help inspire their creative thinking and abilities. FOr me, it's just so much fun for all of us that I sometimes just can't seem to help myself by taking on some pretty crazy projects and challenges. And of course, sharing and documenting our fun is a major part of it as well. And when it comes to the fun times and memories, well that's the best part!
If you enjoyed my DIY Ghostbusters Proton Pack project and think you would like to see what's next, simply enter your email address below to join my Scarpace Insider's Club/Newsletter. 😋

And here's one final high resolution photo of my completed Ghostbusters Proton Pack, Enjoy!
Now, if you didn't already know; I make all sorts of things and it's all considered artwork to me. From original music, to short videos and film, fresh fashion, various metal and electronic sculptures and more; being and remaining creatively active in the art world has always been part of my daily routine. If you would like to help support my unique creativity, please feel free to look around and maybe even check out my online shop. Thank you!
– SCARPACE
IF YOU'RE LIKE ME, YOU LOVE TO SUPPORT PEOPLE WHO MAKE YOU SMILE 💗