Throughout the last several hundred years people have often pontificated about wine. From famous artists and politicians to anonymous writings that have attempted to capture the meaning of wine, below I have complied and listed 44 funny and random wine quotes that are worth sharing.

– SCARPACE
1. It's always wine weather.
2. You had me at Merlot.
3. A meal without wine is called breakfast.
4. Penicillin cures, but wine makes people happy.
5. For when the wine is in, the wit is out.
6. I make wine disappear, what's your super power?
7. An empty bottle of wine is better than a filled one. It shows achievement.
8. Wine is one of the most civilized things in the world.
9. Give me wine, get my wisdom
10. A gourmet meal without a glass of wine just seems tragic to me somehow.
11. In wine there is wisdom, in beer there is freedom, in water there is bacteria.
12. A glass of wine keeps the doctor away; a bottle of wine would keep everyone away. I think I'll have a bottle.
13. I cook with wine, sometimes I even add it to the food.
14. More wine, less whine.
15. Wine is a given.
16. Beer is made by men, wine by God.
17. "I drink wine to make other people more interesting.
18. A bottle of wine contains more philosophy than all the books in the world.
19. Compromises are for relationships, not wine.
20. Coffee keeps me busy until it's time to drink wine.
21. What wine goes with Captain Crunch?
22. Reality is just an illusion that occurs due to lack of wine.
23. Better is old wine than new, and old friends like-wise.
24. I just rescued someone's wine, it was trapped in a bottle.
25. I tried cooking with wine. Didn't go so well. After 5 glasses, I forgot why I was even in the kitchen.
26. Alcohol may be man's worst enemy, but the Bible says love your enemy.
27. The only thing I can cook is white soup; the only ingredient is white wine.
28. Men are like wine – some turn to vinegar, but the best improve with age.
29. I'm like old wine. They don't bring me out very often, but I'm well preserved.
30. Quickly, bring me a beaker of wine, so that I may wet my mind and say something clever.
31. You can't buy happiness, but you can buy wine and that is sort of the same thing.
32. One not only drinks wine, one smells it, observes it, tastes it, sips it and one talks about it.
33. Wine is the most healthful and most hygienic of beverages.
34. Either give me more wine, or leave me alone.
35. Spilling your glass of wine is the adult equivalent of letting go of a balloon.
36. My only regret in life is that I didn't drink enough champagne.
37. A glass of wine is good for your health… The leftover in the bottle is good for your morale.
38. I'm a wine enthusiast. The more wine I drink, the more enthusiastic I get.
39. If you walk a mile in my shoes, you'll end up in a wine bar.
40. She gets to keep the chalet and the Rolls, I want the Montrachet.
41. Anyone who tries to make you believe that he knows all about wines is obviously a fake.
42. The only thing I throwback on Thursdays is a glass of wine.
43. Life is too short to drink bad wine.
44. Wine rejoices the heart of man and joy is the mother of all virtues.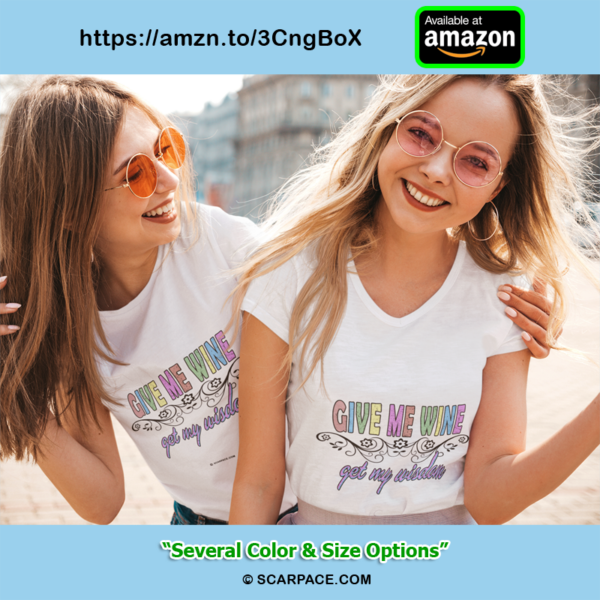 Solid colors: 100% Cotton; Heather Grey: 90% Cotton, 10% Polyester; All Other Heathers: 50% Cotton, 50% PolyesterImportedMachine wash cold with like colors, dry low heatPerfect for Spring, Summer, Autumn and Winter! Makes a great gift yourself, mom, wife, daughter, grandmother, sister, friends, co-workers and females that drink wine. Works well (read more)
Next time you're getting cozy with your favorite wine buddies, why not wear a special shirt that matches your own attitude perfectly?
-Scarpace
YES, IT IS OKAY TO SHOW SOME LOVE…